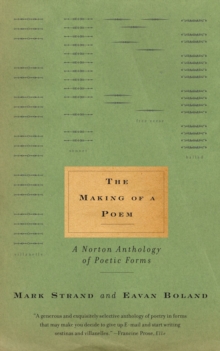 The making of a poem : a Norton anthology of poetic forms
0393321789 / 9780393321784
general Learn More
postgraduate
research & professional
undergraduate
Reprint. Originally published: 2000.
This anthology illuminates the history, practice, and wonder of our most elusive art, poetry.
Intended for all those who love poetry, including teachers, readers, writers, and students, the book should be valued by those who feel that an understanding of form-sonnet, ballad, villanelle, and sestina would enhance their appreciation of poetry, but are daunted by the terms, the names, and the histories of various poetic forms.
The anthology draws the reader in, by example and explanation, to the excitement and entertainment of these forms.
It explains their origins, traces their development, and shows examples from the past and present.
In a feature called "the form at a glance" the reader can try his or her own hand writing a particular form.
Included are essays by each of the editors describing their own personal journeys toward a form for their poetic voice.
Above all, this anthology shows that poetic form is a continuing adventure.
BIC: