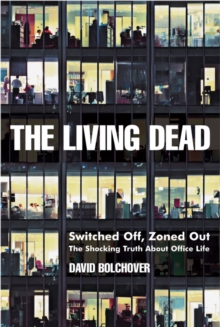 The living dead : switched off, zoned out
184112656X / 9781841126562
Stock expected by 29/05/2022
Switch on the business news and you will probably be bombarded with yet more workplace experts telling you that everyone nowadays is grossly overworked, madly juggling their work-life balance until they finally keel over and die from the sheer stress of it all.
We all know that's right, don't we? The real truth is that there are millions upon millions of people who are actively disengaged from their jobs, who spend months and years sitting in offices doing next to nothing, lost in the cracks of laughably inefficient and abysmally managed large organisations, their talents wasted and long forgotten. "The Living Dead" unmasks the myth of the workplace for the first time.
It tells the truth. Not cloaked in humour, as in "Dilbert and The Office", but in plain black and white. "The Living Dead" reveals the shocking truth about office life.
It will captivate anyone anywhere in the world who has ever worked in a large office environment, or those who have a genuine desire to make people's working lives more productive and enjoyable.Here are some astonishing statistics about office life you probably never knew: 40 per cent of all casual drugs users in the US (people who use drugs just once a month) still choose to do it at work. 19.6 per cent of people who take drugs at work do so at their workstation.
One in three mid-week visitors to the theme park Alton Towers has taken the day off work on a dishonest pretext.
One in five US workers has had sex with a co-worker during work hours.
Full sex, that is. 44 per cent of men and 35 per cent of women have had at least some sexual contact at work.
One third of UK young professionals are hungover at least twice a week on working days.
Two thirds admitted to having called in sick due to alcohol at least once in the previous month. 70per cent of Internet porn sites are accessed during the 9 to 5 working day.
More than half of the UK's 14.5 million pet owners say they would need between two and five days off work to grieve for a dead pet, while 10 per cent said they would need as much as two weeks.
Monday (23 per cent) and Friday (25 per cent) are the days most commonly taken off sick by UK employees.
Wednesday is the most rarely taken (8 per cent).UK doctors receive 9 million 'suspicious' or 'questionable' requests each year for sick notes.
David Bolchover writes frequently on business and management issues for "The Times" and "The Sunday Times" as well as a number of other national newspapers and specialist publications.
His first book, "The 90-Minute Manager", outlines the lessons which business managers can learn from football managers.
Previously, he was employed for several years in a large office.
But now he wants to do something with his life.
BIC: