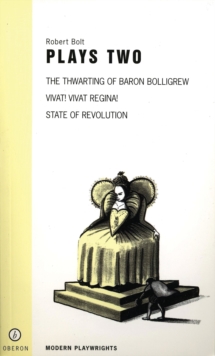 1840021586 / 9781840021585
Usually dispatched within 2 weeks
Contents: Vivat! Vivat! Regina! - State of revolution - The thwarting of Baron Bolligrew.
In this volume of his works, Bolt develops along more Brechtian lines.
Vivat! Vivat Regina! (1970), with its broad historical canvas and skilful theatrical invention, reminded people of the power possessed by the author of A Man for All Seasons.
Performed at the National Theatre, State of Revolution (1977) proves his point that Lenin was an admirable man 'possessed by a terribly wrong idea'.
The collection includes Bolt's children's play, The Thwarting of Baron Bolligrew (1965).
BIC: