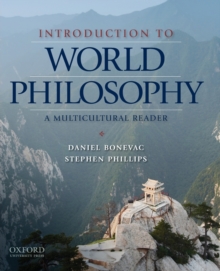 Introduction to World Philosophy : A Multicultural Reader
019515231X / 9780195152319
Stock expected by 16/04/2020
191 x 235 mm, 966 grams 624 pages
Featuring selections from around the globe, Introduction to World Philosophy: A Multicultural Reader provides a diverse and engaging introduction to five key areas of philosophy: ethics, philosophy of mind and self, epistemology, metaphysics, and philosophical theology.
The editors have arranged these topics according to their increasing complexity-from the most concrete (ethics) to the most theoretical (philosophical theology)-making the material asaccessible as possible for students. Organized both chronologically and geographically, the anthology's five parts include readings from Indian, Chinese, Greek, Christian, Jewish, Islamic, Spanish, Latin-American, and African traditions, as well as selections from early modern, Kantian, and post-Kantianphilosophy. Introduction to World Philosophy contains 136 selections (24 by women), organized into 25 chapters; these chapters are divided into 93 sections, each of which opens with a detailed introduction that prepares students for the readings that follow.
The parts and chapters can be used in any order and in any combination.
The text's unique modular structure gives instructors great flexibility in designing and teaching introduction to philosophy courses.
BIC: