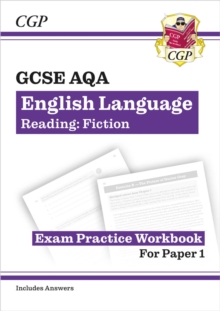 Grade 9-1 GCSE English Language AQA Reading Skills Workbook: Fiction (includes Answers)
1789080053 / 9781789080056
210 x 295 mm, 216 grams 88 pages
This superb CGP Skills Workbook is packed with essential Fiction Reading practice for Grade 9-1 AQA GCSE English.
It includes engaging extracts from the 20th and 21st Century with plenty of practice at approaching unfamiliar texts, analysing structure and language and extracting key information.
What's more there are crystal-clear answers for every question at the back of the book.
Double up students English Language practice with our fantastic partner Workbook for the Non-fiction exam (9781789080063)!
BIC:
YQCS Educational: English language: reading & writing skills, YQZ Educational: study & revision guides