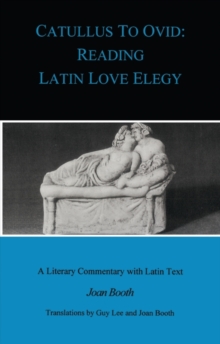 Catullus to Ovid : reading Latin love elegy (Rev. ed)
1853996068 / 9781853996061
Usually dispatched within 4 weeks
This text offers an introduction, Latin text, translation and literary commentary on seventeen poems by Catullus, Propertius, Tibullus and Ovid.
It is intended for students who are approaching the genre of Latin love elegy for the first time - both those who have a knowledge of Latin and those who may wish to study the genre in translation.
The poems have been selected to represent each author's particular qualities; while the commentary aims to bring out their literary qualities and invites comparison and contrast between them.
Revised from a previous edition - "Reading Latin Love Elegy" - which contained no text, this book includes translations of Catullus, Propertious and Ovid by Guy Lee; and versions of Tibullus by Joan Booth, who also provides the introduction and commentary.
BIC:
2ADL Latin, DCQ Poetry anthologies (various poets), DSBB Literary studies: classical, early & medieval, DSC Literary studies: poetry & poets, DSK Literary studies: fiction, novelists & prose writers