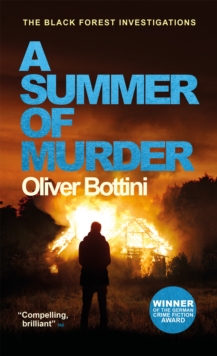 A summer of murder
0857057677 / 9780857057679
Translated from the German.
The second of the Black Forest Investigations - "Its plot bristles with invention" Guardian It has been a long dry summer in the Black Forest idyll of Kirchzarten.
When the local fire brigade is called to a burning farm shed, a volunteer is killed as a weapons cache beneath it explodes.
The small community is shocked to the core. Louise Boni, back with Freiburg Kripo after a period of withdrawal, is assigned to the task force dealing with the case. The meagre evidence they gather points to a possible connection with German neo-Nazis or illegal arms dealers from the former Yugoslavia, but the appearance of secret service agents marking out the forest suggests more is at stake.
Acting as her partner in the case is Thomas Ilic, whose allegiances are as conflicted as Boni's. Who is in fact working for whom? In the most challenging case of her career - and one that puts her in mortal danger - Boni must to overcome the ghosts of her past that continue to haunt her. Oliver Bottini is a fresh and exciting voice in the world of crime fiction; the Rhine borderlands of the Black Forest are a perfect setting for his beautifully crafted mysteries. Praise for ZEN AND THE ART OF MURDER - now shortlisted for the CWA INTERNATIONAL DAGGER: "Surprising and genuinely shocking" Joan Smith, Sunday Times"Gripping" Sebastian Shakespeare, Tatler"An atmospheric, original story that will keep you hooked to the final heart-rending revelations" Crime ReviewTranslated from the German by Jamie Bulloch
BIC:
1DFG Germany, FF Crime & mystery, FYT Fiction in translation