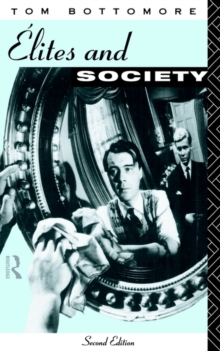 Elites and Society (2 New edition)
0415082714 / 9780415082716
Usually dispatched within 2 weeks
Postgraduate, Research & Scholarly Learn More
Undergraduate
In this substantially revised and enlarged second edition of a classic text that has been used throughout the world in numerous translations, Tom Bottomore reconsiders elite theory in the light of more recent studies.
He examines the role and significance of elites in relation to classes and class structure in both advanced industrial and developing countries, and expounds the criticism of elites and elitism that have been formulated by democratic and socialist thinkers and movements.
In a new concluding chapter, Professor Bottomore considers the prospect, as humanity approaches the millenium, for a renewed advance towards more egalitarian forms of society, in which all citizens would be able to participate more fully and effectively in the shaping of their social world. Tom Bottomore taught at the London School of Economics 1952-64, was Head of the Department of Political Science, Sociology and Anthropology at Simon Fraser University, Vancouver 1965-67, and Professor of Sociology at the University of Sussex 1968-85 where he is now Professor Emeritus.
He is the author of numerous books, most recently: Theories of Modern Capitalism, Allen and Unwin (1985); Classes in Modern Society, Routledge (2nd edition, 1991) and Between Marginalism and Marxism: The Economic Sociology of J A Schumpter, Harvester Wheatsheaf (1992).
BIC: