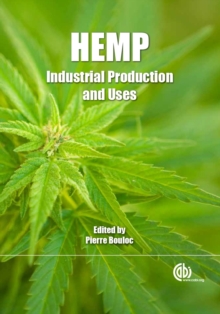 Hemp : industrial production and uses
1845937929 / 9781845937928
Professional & Vocational Learn More
Tertiary Education (US: College)
Hemp production for industrial purposes continues to grow worldwide, and is currently being used for many applications including house insulation, paper making, animal bedding, fabric, rope making and also as a biofuel.
This book brings together international experts to examine all aspects of industrial hemp production, including the origins of hemp production, as well as the botany and anatomy, genetics and breeding, quality assessment, regulations, and the agricultural and industrial economics of hemp production.
A translation of Le Chanvre Industriel, this book has been revised and updated for an international audience and is essential reading for producers of industrial hemp, industry personnel and agriculture researchers and students.
BIC: