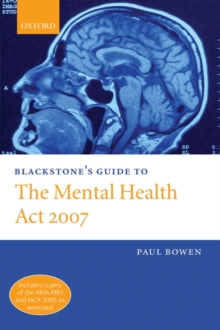 Blackstone's guide to the Mental Health Act 2007
0199217114 / 9780199217113
Usually dispatched within 4 weeks
postgraduate Learn More
research & professional
undergraduate
The Blackstone's Guide Series delivers concise and accessible books covering the latest legislative changes and amendments.
Published soon after enactment, they offer expert commentary by leading names on the effects, extent and scope of the legislation, plus a full copy of the Act itself.
They offer a cost-effective solution to key information needs and are the perfect companion for any practitioner needing to get up to speed with the latest changes.
The Mental Health Act 2007 introduces substantial amendments to the Mental Health Act 1983 and the Mental Capacity Act 2005, including the new Bournewood safeguards to bring domestic law into line with human rights law following HL v United Kingdom (2004). The 2007 Act is expected to come into force in October 2008.
This practical guide contains a chapter by chapter analysis of the amendments in two parts: Part I, 'Reform of the Mental Health Act 1983 Act', and Part II 'The Mental Capacity Act 2005 and its amendments'. Where appropriate the Human Rights Act implications of the changes are considered.Part I contains a discussion of the background to the reform of the Mental Health Act 1983 with a detailed analysis of the changes made to it by the 2007 Act, in particular: * amendments to the criteria for guardianship and detention * additional safeguards for patients in relation to admission and detention * the new procedure for Supervised Community Treatment (SCT) * amendments to the provisions for medical treatment under Part 4 and new Part 4A of the 1983 Act for community patients on SCT * other amendments, including those which authorise new categories of professional to exercise powers under the 1983 Act Part II gives an overview of the law governing substituted decision-making for incapacitated adults and children in personal welfare matters, both at common law and under the Mental Capacity Act 2005. It explains how the law will apply after the 2005 Act comes into force from 1 October 2007 and as it will be amended by the 2007 Act after October 2008.Chapters include * common law principles governing care and treatment of the incapacitated * care and treatment under the 2005 Act, including advance decisions, lasting powers of attorney, personal welfare decisions of the new Court of Protection and court-appointed deputies, and the appointment and role of Independent Mental Capacity Advocates (IMCAs) * detention for care and treatment: the Bournewood and HL v United Kingdom judgments and detention under the 2005 Act in its current form and as amended * the new 'standard' and 'urgent authorisation' detention procedure in Sch.
A1 * representation of Sch A1 detainees, including new s 39A-D IMCAs * the Court of Protection, the Public Guardian and Court of Protection Visitors * Sch 1A and the interface between the 1983 Act and the 2005 Act
BIC:
1DBKE England, 1DBKW Wales, JPVH Human rights, LNTM1 Mental health law, MBPK Mental health services