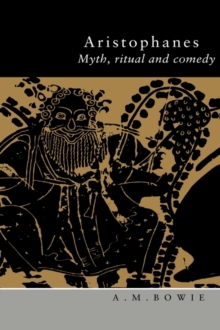 Aristophanes : myth, ritual and comedy
0521575753 / 9780521575751
Usually dispatched within 4 weeks
research & professional Learn More
academic/professional/technical
Reprint. Transferred to digital printing. Originally published: 1993.
This book places the plays of Aristophanes in their contemporary context, asking what aspects of Greek, and especially Athenian, culture these comedies brought into play for their original audiences.
It makes particular use of the structural analysis of Greek rituals and myths to demonstrate how their meanings and functions can be used to interpret the plays.
This information is then used to suggest ways in which twentieth-century audiences may read the plays in terms of contemporary literary theories and concerns.
This is the first book to apply the techniques of structural anthropology systematically to all the comedies.
It does not impose a single interpretative structure on the plays but argues that each play operates with a range of different structures, and that groups of plays use similar structures in different ways.
All Greek is translated.
BIC:
2AHA Ancient (Classical) Greek, DSBB Literary studies: classical, early & medieval, DSG Literary studies: plays & playwrights