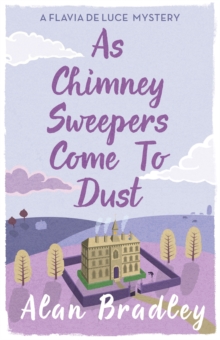 As chimney sweepers come to dust
1409149463 / 9781409149460
It all began with that awful business about my mother...Flavia de Luce's world is turned upside down when she is banished to Miss Bodycote's Female Academy in Canada - her mother Harriet's old boarding school.
With its forbidding headmistress, intimidating teachers and bizarre rules, adapting to Miss Bodycote's could be a matter of life and death. But Flavia is soon on familiar ground when she is presented with a gruesome puzzle to solve. And the mystery of a withered corpse is only the beginning.
Girls have been disappearing from Miss Bodycote's, leading Flavia to wonder what exactly the academy's true purpose is, and why were her father and Aunt Felicity so keen that she enrol?Praise for the historical Flavia de Luce mysteries: 'The Flavia de Luce novels are now a cult favourite' Mail on Sunday 'A cross between Dodie Smith's I Capture The Castle and the Addams family...delightfully entertaining' Guardian Fans of M.
C. Beaton's Agatha Raisin, Frances Brody and Alexander McCall Smith will enjoy the Flavia de Luce mysteries: 1.
Sweetness at the Bottom of the Pie 2. The Weed That Strings the Hangman's Bag 3. A Red Herring Without Mustard 4. I Am Half Sick of Shadows 5. Speaking From Among the Bones 6. The Dead in Their Vaulted Arches 7. As Chimney Sweepers Come To Dust 8. Thrice the Brinded Cat Hath Mew'd 9. The Grave's a Fine and Private Place If you're looking for a cosy crime series to keep you hooked then look no further than the Flavia de Luce mysteries. * Each Flavia de Luce mystery can be read as a standalone or in series order *
BIC: