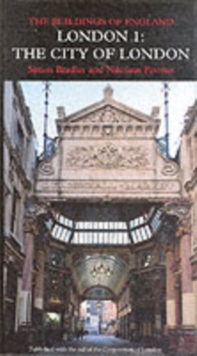 London1: The City of London
0300096240 / 9780300096248
23 cm 702 p., [80] p. of plates : ill.
general Learn More
postgraduate
research & professional
undergraduate
Originally published: London: Penguin, 1997.
The City of London has an amazingly rich architectural heritage which is quite unique in its diversity.
The Tower of London, the great medieval Guildhall and St Paul's Cathedral, the masterpiece of Sir Christopher Wren, all lie within its small area.
Wren's genius is also apparent in the celebrated City churches, rebuilt after the Great Fire of London.
Houses, banks, offices and warehouses of the working City lie in constantly surprising juxtapositions.
As the financial capital of Europe, the City boasts a vigorous new generation of premises, including the urbane Broadgate Centre and the iconoclastic Lloyd's.
Beneath the present City lies Roman London, whose extraordinary buildings are increasingly familiar from archaeological excavations and displays.
In this guide, Simon Bradley unlocks the treasures of this most ancient and modern of capitals, aided by numerous maps, plans, drawings and photographs.
Introductory essays describe the growth of the City and the distinctive characteristics of its architecture, and a gazetteer describes the buildings and streets in detail. Extensive indexes and a glossary of architectural terms not only make this wealth of information easily accessible, but also create an essential guide book for anyone interested in this fascinating area.
BIC: