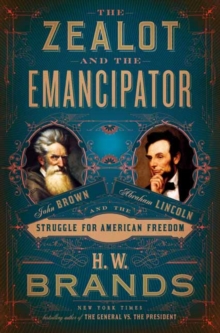 Zealot and the Emancipator
0385544006 / 9780385544009
From New York Times bestselling historian H. W. Brands, the epic struggle over slavery as embodied by John Brown and Abraham Lincoln, two men with radically different views on how moral people must act when their democracy countenances evil.

John Brown was a charismatic and deeply religious man who heard the God of the Old Testament speaking to him, telling him to destroy slavery by any means. In 1854, when Congress opened Kansas territory to slavery, Brown raised a band of followers to wage war against the institution--his men tore proslavery settlers from their homes and hacked them to death with broadswords. Three years later Brown and his men assaulted the federal arsenal at Harpers Ferry, Virginia, hoping to arm slaves with weapons for the coming race war that would cleanse the nation of slavery once and for all.
Brown's violence pointed ambitious Illinois lawyer and former office-holder Abraham Lincoln toward a different solution to slavery: politics. A member of the moderate wing of the new antislavery Republican Party, he spoke cautiously and dreamed big, plotting his path to Washington and perhaps the White House. Yet Lincoln's caution couldn't protect him from the vortex of violence Brown set in motion. After his arrest and death sentence, Brown's righteous dignity on the way to the gallows led many in the North to see him as a martyr to liberty. Southerners responded in anger and horror to a terrorist being made into a saint. Lincoln shrewdly threaded the needle of the fracturing country and won election as president, still preaching moderation.
But the time for moderation had passed, and as the nation careened toward war Lincoln would see his central belief, that democracy can resolve its moral crises peacefully, face the ultimate test. Master storyteller H. W. Brands narrates in thrilling fashion how two men confronted America's gravest scourge in the moments before the nation's darkest hour.
BIC: