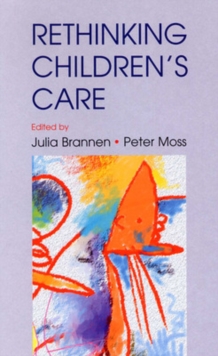 Rethinking children's care
0335209874 / 9780335209873
Stock expected by 17/04/2020
" The book successfully presents clear and convincing arguments about the need to re-direct childhood studies and children's care towards an appreciation of children and care, by providing a careful and very thorough examination of care theory, policy, practice and research." - "Network".
Children's care in the 21st century is increasingly a public issue as well as parents' private concern.
A limited vision of children as the responsibility of mothers held sway in Britain long after mothers joined the workforce.
Formal childcare is now growing but in the context of care work continuing to be low qualified and low status.
A dearth of care looms large as Britain rapidly turns into an overworked society.
This critically orientated book draws on a range of key empirical studies carried out in a variety of care contexts.
It examines care from the perspectives of children, parents and care workers.
It also takes an historical perspective. The discussion is situated in an analysis of economic, social and political change, from modernity to late modernity.It focuses on four key issues: the conceptualisation of care; how care translates its public policy; the nature of the care relationship; and how care might be transformed in the future. "Rethinking Children's Care" will be of interest to students of childhood studies, the sociology of childhood and child welfare.
It is also directly relevant to policy makers, trainers and researchers, as well as practitioners involved in children's care.
BIC:
1DB British Isles, JFSP1 Age groups: children, JHBK Sociology: family & relationships, JKSB1 Child welfare