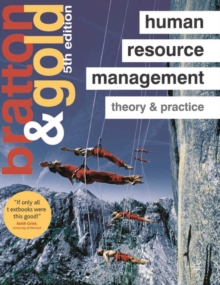 Human resource management : theory & practice (5th ed)
0230580564 / 9780230580565
25 cm xli, 630 p. : ill. (chiefly col.), ports.
Postgraduate, Research & Scholarly Learn More
Undergraduate
Fully up-to-date revised edition with new exciting real-world features including video interviews with HR managers. In the words of video interviewees for Human Resource Management fifth edition: 'The HR strategy absolutely underpins the business strategy' - Lesley White, HR Director UK and Ireland, Huawei Technologies 'Organisations provide a differential through their people' - Keith Hanlon-Smith, Employee Relations Director, Norland Managed Services This new edition of Human Resource Management: Theory and Practice combines comprehensive text and web material to help you understand the context of the rapidly changing contemporary workplace and the importance of HRM within it.
The authors challenge you to think critically and to apply this to the real world of business. Key features include: * Two new chapters on Leadership and management development, and Organisational culture and HRM * HRM and Globalization - sections analysing HRM on an international scale and the challenges of managing people across borders * A focus on contemporary themes such as sustainability, dignity at work, diversity and emotion * HRM as I see it - online video interviews with HR managers at organisations such as Sky, Bupa and Unite the Union, with accompanying questions in the textbook * HRM in Practice sections and Case Studies - demonstrate HRM at work in the real world and encourage you to be analytical about practical issues * Online multi-choice questions and skills development guide - aid your understanding and help you get to grips with writing reports and giving presentations.
Visit www.palgrave.com/business/bratton5 for comprehensive supporting materials for lecturers and students, including all-new video interviews with HR professionals.
BIC:
Title Unavailable: Out of Print