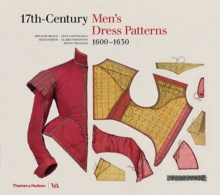 17th-century men's dress patterns 1600-1630
0500519056 / 9780500519059
28 x 31 cm 176 pages : illustrations (black and white, and colour)
Published in association with the Victoria and Albert Museum.
This book presents full step-by-step instructions for the making of early 17th-century men's clothes and accessories in a technically accurate, visually exciting and easy-to-follow format.
Twelve garments - all historical pieces from the Victoria and Albert Museum's collections - are featured: a suit, three doublets and a cloak, as well as a felt hat, an embroidered nightcap and a plain nightcap liner, a pasteboard picadil, a sword girdle and hangers, a pair of mittens and a linen stocking.
They have been analysed so that every aspect of the pattern is exact.
Scale patterns and precise construction diagrams are accompanied by colour photography of the whole garment as well as an abundance of informative details and X-ray photographs that reveal the hidden structure of each piece, showing the precise number of layers and the types of stitches used inside.
The methods and techniques of historical tailoring and plain sewing are shown in detail. The authors have some of the best historical tailoring skills in the world and have worked with world-renowned institutions such as the Globe Theatre in London, creating award-winning costumes for film, stage and television.
This book is a unique resource for costume and fashion designers, fashion historians and students.
BIC: