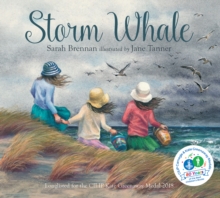 1910646563 / 9781910646564
Usually dispatched within 4 weeks
Illustrations, unspecified
'Bleak was the day and the wind whipped down, when I and my sisters walked to town...' So begins the story of three sisters and their wild and magical encounter with a whale, stranded on a beach.
With illustrations full of light and movement, a powerful text that reads like a ballad, children and adults alike will be transported to beachside holidays of long ago, feel the wind in their hair and taste the salt spray, as the girls battle against huge odds to save something precious and vulnerable.
The artwork moves from black and white to full colour and is expansive and nostalgic.
Both author and illustrator are passionate about the natural world and environmental issues and see the book as a way to encourage others to care.
BIC: