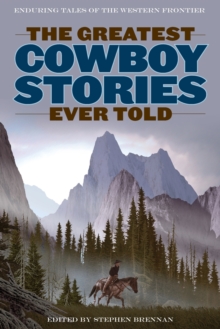 The greatest cowboy stories ever told : enduring tales of the western frontier
Part of the Greatest series
1493036955 / 9781493036950
The cowboy, one of the greatest fictional characters in American literary history, is more than a man or a myth; he is an identity, the soul of a country that started out as the wild and unruly and has risen to the civilized and respected.
The Greatest Cowboy Stories Ever Told includes twenty-three exciting stories from a variety of contributors, such as Mark Twain, Karl May, Tom McGuane, Larry McMurtry, Edgar Beecher Bronson, Frederic Remington, Max Brand, and John Graves.
The Golden Age of the Cowboy, or what has been called the Kingdom of Cattle, lasted from the close of the Civil War to the turn of the 20th century.
Barbed wire and the iron horse put paid to the free range and the long trail drive just as the coming of the law obviated the need for the rough chivalry of the code of the West.
Though the days of dueling-every individual was for himself and men were expected to settle their own scores-are over, it is memories of these drastic times and extreme measures and the people who lived them that remain our defining characteristics.
This book is filled with some of the most action-filled and exciting stories ever to come out of the American landscape.
BIC: