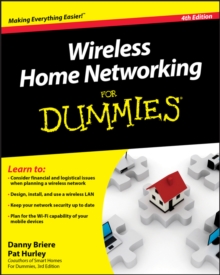 Wireless home networking for dummies (4th ed.)
0470877251 / 9780470877258
Stock expected by 12/04/2020
24 cm xviii, 364 p. : ill.
The perennial bestseller shows you how share your files andInternet connection across a wireless network Fully updated for Windows 7 and Mac OS X Snow Leopard, this newedition of this bestseller returns with all the latest in wirelessstandards and security.
This fun and friendly guide shows you howto integrate your iPhone, iPod touch, smartphone, or gaming systeminto your home network.
Veteran authors escort you through thevarious financial and logisitical considerations that you need totake into account before building a wireless network at home. * Covers the basics of planning, installing, and using wirelessLANs * Reviews essential information on the latest securityissues * Delivers valuable tips on how to stay current with fast-movingtechnology * Discusses how to share resources such as printers, scanners, anInternet connection, files, and more with multiple computers on onenetwork Wireless Home Networking For Dummies, 4thEdition skips the technical jargon and gets you connected withneed-to-know information on building a wireless home network.
BIC: