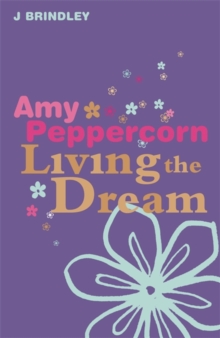 Amy Peppercorn : living the dream
1842552422 / 9781842552421
Usually dispatched within 4 weeks
The follow-up to Starry-eyed and Screaming and the second book in the series. Compelling themes - bands, pop music and teenage wannabes. Intuitive understanding of teenage lives and relationships. Touches on hopes and dreams that we all recognise. Distinctive assured voice. Reviews of 'Amy Peppercorn: Starry-eyed and Screaming' - 'A must-read for anyone who wants to be famous.' Mizz 'Brindley ... creates a compelling and distinctive insight into teenage relationships hopes and fears.' bigwideworld.com.
Amy is an overnight sensation. She is top of the pops. She's abandoned school and A levels for a five year contract with Solar Records and a punishing regime of dance routines and singing lessons, endless rehearsals and her first tour. It's a huge success. But in the middle of all the glamour and fame, Amy has never felt so utterly lonely. Geoff is dead and Ben is on remand. She seems to be losing her best friend Beccs and even Mum is slipping out of reach. That's when Jag - one of her dancers - comes into her life. It seems as though he's the answer to her dreams and Amy clings to him desperately. But will her dreams turn into nightmares? There are certainly some big surprises in store. J Brindley has written a heart-searching, page-turning sequel to 'Amy Peppercorn: Starry-eyed and screaming' which once again packs a massive emotional punch.
BIC:
5AK Interest age: from c 9 years, YFB General fiction (Children's / Teenage)
* Variable discounts between 0% and 15% are applied to items where BBfS cannot determine exact discounts from suppliers.