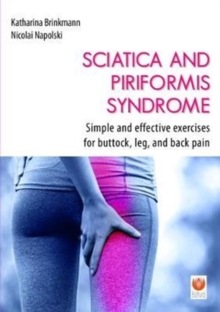 Sciatica and piriformis syndrome : simple and effective exercises for buttock, leg and back pain
1905367848 / 9781905367849
21 cm 94 pages : illustrations (black and white)
Translated from the German.
Do you suffer from back pain that radiates out into your legs?
You are not alone. Traditionally, doctors automatically suspect a slipped disc but intervertebral discs aren't always to blame.
In many cases, there is an infection in the piriformis that presses on the sciatic nerve, which is causing the pain.
If piriformis syndrome is recognised early, it can be much more precisely and effectively treated than, for instance, a slipped disc.
Even simple stretching exercises have proven astonishingly effective.
Sports editor Nicolai Napolski, who knows from his own experience how painful piriformis syndrome can be, has collaborated with sports therapist and personal trainer Katharina Brinkmann to write the first guidebook covering this condition in a clear and concise manner.
Not only have the authors collected the most important information regarding the background and development of piriformis syndrome, but they have also created their very own training regime that introduces simple and effective techniques which can be used to stretch the shortened muscles, strengthen the pelvic girdle, and correct posture problems.
In the expert interview with Dr. Torsten Pfitzer, an osteopath and spine specialist, you can also find out how you can prevent the condition, so that the pain doesn't occur in the first place.
BIC:
VFJB Coping with illness & specific conditions, VFMG Exercise & workout books