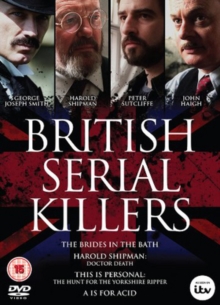 Britain's Serial Killer Box Set: A Is for Acid/Harold...
(15) Suitable for 15 years and over.
Triple bill of made-for-TV crime dramas about real-life serial killers.
In 'A Is for Acid' (2002), after mistakenly believing a Latin term to mean that murder can only be proven with the evidence of a body, John George Haigh (Martin Clunes) discovers a way to get rid of potential victims by using sulphuric acid.
He first kills his friend, Donald McSwan (Neil McKinven), in order to assume control of his business, but in order to increase his finances Haigh takes a number of further victims.
When those who knew the deceased become suspicious a criminal investigation is launched and it looks as though Haigh's murderous ways will finally be put to a stop. 'Harold Shipman - Doctor Death' (2002) follows the story of Dr. Harold Shipman (James Bolam), a general practitioner who throughout his career is believed to have killed as many as 250 of his patients.
When the high death rate of his practice was investigated, it was discovered that he had given lethal doses of diamorphine to a vast number of his patients.
He was put on trial where he was convicted of 15 murders and sentenced to life imprisonment.
In 'The Brides in the Bath' (2003), in order to accumulate wealth George Joseph Smith (Martin Kemp) commits bigamy under various pseudonyms and kills three of his wives between 1910 and 1915.
He tries to make it look as though the women died by accidentally drowning in their bathtubs but the deaths are eventually linked with Detective Inspector Arthur Neil (Alan Mckenna) working to solve the case.