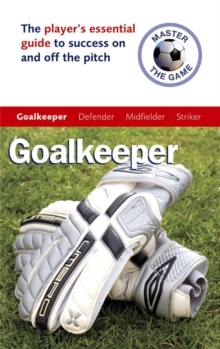 Goalkeeper
Part of the Fafo series
0340928409 / 9780340928400
Stock expected by 29/02/2020
The Official FA Guide: Goalkeeper is THE must-have guide for any footballer wanting to master this essential position.
Step-by-step, progressive instructions, proven practices and training drills will allow players of all levels to learn and refine vital techniques in a progressive and enjoyable way.
In no time at all you will learn all you need to know to maximise your potential and performance as a footballer - equipment, tactics, training, fitness, nutrition, development and psychology.
Written in association with The Football Association, this book includes key advice and tips from the leading players, managers and coaches in the sport.
With this guide, you will soon be at the cutting edge of your game.
The Football Association is the governing body of the game in England, and seeks to develop the sport at all levels under the vision of 'using the power of football to build a better future'.
Other titles in The Official FA Guide series: Striker, Defender, Midfielder, Basic Team Coaching, Psychology for Football, Running a Club, Basic Refereeing, A Parent's Guide to Football, Fitness for Football.
BIC: