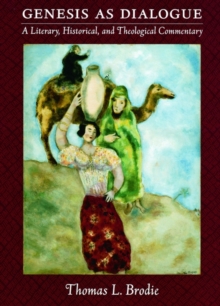 Genesis as dialogue : an orientation commentary, literary, historical, and theological
0195138368 / 9780195138368
Stock expected by 13/12/2019
Recent years have seen a remarkable surge in interest in the book of Genesis - the first book of the Bible, and a foundational text of Western culture.
This commentary aims to offer a complete and accessible overview of Genesis from literary, theological, and historical standpoints.
The author's work is organized around three main ideas: the first is that the primary subject of Genesis is human existence - while full of historical echoes, it is primarily a sophisticated portrayal of the progress and pitfalls of human life.
His second thesis is that Genesis' basic organizational unity is binary, or diptych: building on older insights that Genesis is somehow dialogical, he argues that the entire book is composed of diptychs - accounts which, like some paintings, consist of two parts or panels.
Finally, Brodie contends that many of Genesis' sources still exist, and can be identified and verified.
BIC:
HRCG1 Biblical commentaries, HRCG9 Bible readings, selections & meditations, HRLC1 Criticism & exegesis of sacred texts