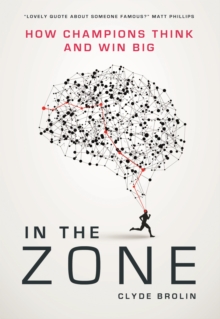 In the zone : how champions think and win big
1911274554 / 9781911274551
Stock expected by 20/09/2020
'You're so focused you know exactly what's going through your mind and exactly where you are.' - Usain Bolt'Those "edge" moments, like when you put an incredible lap all together, are what keep me going.' - Lewis HamiltonHow did Novak Djokovic and Nadia Comaneci peak as the world watched?
How did Michael Phelps and Jessica Ennis-Hill see into their own future?
How do champions suppress their fear of failure and find the belief to win?
Can the greats even bend time and space when they push to the limit?
What separates those who live their dreams from those who don't?
What exactly is 'The Zone'? And how do you get there?Drawing on over a hundred exclusive interviews with the world's elite stars of sports ranging from boxing to rugby union, motorcycling to surfing, triathlon to the Paralympics, Clyde Brolin sets out to discover the secrets of true success. In The Zone investigates with intelligence and clarity the mental traits that make champions, and reveals how anyone can reach the magical state of mind where sport's greatest achievements happen...
The Zone. 'The magic lives inside every one of us, despite our struggles and our doubts.' - Cathy Freeman
BIC: