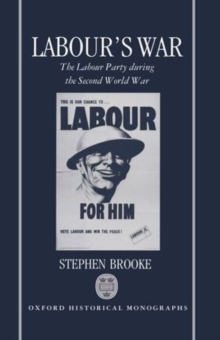 Labour's war : the Labour Party during the Second World War
0198202857 / 9780198202851
Stock expected by 12/12/2019
Labour's War is the first scholarly history of the Labour Party during the Second World War, and offers a fresh look at British politics during the war years.
Stephen Brooke examines the effect of war upon the party's ideology and policy, the experience in government of Labour leaders such as Clement Attlee and Hugh Dalton, and the tensions produced within the party by the circumstances of war.
Dr Brooke's extensively researched and original study calls into question the long-standing belief in an atmosphere of consensus among the political parties.
His analysis uncovers the sharp ideological differences which persisted throughout the war years and after.
He also demonstrates the impact of the war on the development of Labour's socialism.
The Labour victory in the 1945 election remains one of the most significant turning-points in modern British history, setting Britain on a new course, towards the welfare state and the managed economy.
The book is an important contribution to our understanding of how this came about.
BIC:
1DBK United Kingdom, Great Britain, 3JJH c 1939 to c 1945 (including WW2), HBJD1 British & Irish history, HBWQ Second World War, JPFF Socialism & left-of-centre democratic ideologies, JPL Political parties