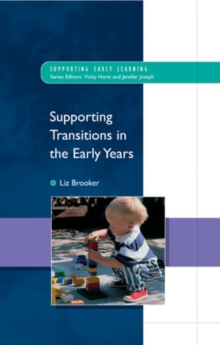 Supporting transitions in the early years
0335221688 / 9780335221684
Stock expected by 18/04/2021
"The text is wide-ranging and discusses different approaches and examples of good practice in supporting transition, from around the world. ... Supporting Transitions in the Early Years gives early years practitioners a real insight into the theory that should underpin high quality everyday practice for everyone engaging with young children."Early Years UpdateSupporting Transitions in the Early Years explores the whole range of early childhood transitions, rather than simply looking at starting school or pre-school.
It helps parents, practitioners, policy-makers and Early Years students at every level, to understand and support the successive transitions made by young children from birth to five.
Starting from a discussion of the rapid pace of change in current societies, and children's need to acquire flexibility and resilience in adapting to change, it offers examples of transitions such as:Babies and toddlers moving into under-3s carePre-schoolers moving into schoolReception children moving into formal learning classroomsSupport for the transitions of children with English as an additional language or special needsAt each stage, individual case studies are discussed in relation to relevant theories of development and learning, and contemporary perspectives on children's well-being and children's rights.
The international case studies offer clear examples of the ways that adults in high-quality settings can work together with parents to strengthen children's positive dispositions.
The book highlights key qualities - resilience, resourcefulness and reciprocity - which adults should seek to foster in children, to facilitate their current transitions and prepare them for a future of change.
The author also underlines the importance of listening to children from birth onwards, if we are to offer the kind of caring and educative environments that will best support their well-being.
BIC: