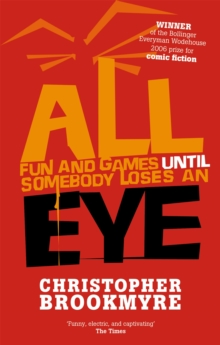 All fun and games until somebody loses an eye
0349117454 / 9780349117454
Reprint. Originally published: London: Little, Brown, 2005.
As a teenager Jane Bell had dreamt of playing in the casinos of Monte Carlo in the company of James Bond, but in her punk phase she'd got herself pregnant and by the time she reaches forty-six she's a grandmother, her dreams as dry as the dust her Dyson sucks up from her hall carpet every day.
Then her son Ross, a researcher working for an arms manufacturer in Switzerland, is forced to disappear before some characters cut from the same cloth as Blofeld persuade him to part with the secrets of his research.
But they are not the only ones desperate to locate him.
A team of security experts is hired by Ross's firm: headed by the enigmatic Bett, his staff have little in common apart from total professionalism and a thorough disregard for the law.
Bett believes the key to Ross's whereabouts is his mother, and in one respect he is right, but even he is taken aback by the verve underlying her determination to secure her son's safety as she learns the black arts of quiet subterfuge and violent attack.
The teenage dreams of fast cars, high-tech firepower and extreme action had always promised to be fun and games, but in real life it's likely someone is going to lose an eye …
BIC: