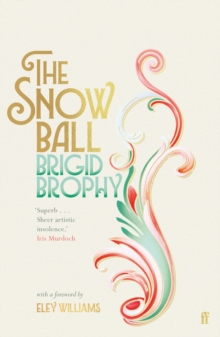 The snow ball
0571362877 / 9780571362875
When Anna is kissed by a mysterious stranger at a masquerade ball, a heady dance of seduction begins ... 'So original and refreshing.' Hilary Mantel'Brilliantly seductive ...
A witty, sexy, sophisticated treat.' Sarah Waters'Superb ...
Sheer artistic insolence.' Iris Murdoch'A great novel ...
A swirling, sumptuous, sensual feast.' Guardian'A feminist remodelling of libertine fervour and passion ...
Fiction at its finest.' Eley WilliamsLondon, New Year's Eve.
Snow falls on a Georgian mansion, vibrating with the festivities of a masquerade ball within.
Middle-aged divorcee Anna stands alone - until the clock chimes midnight and a mysterious figure kisses her on the mouth.
Thus begins a dance of seduction charged by clandestine romances swirling around them, whipping the ball into an frenzy of operatic proportions - until the night climaxes, revealing unease beneath the glitter ...
A scandalous sensation in 1964, Brigid Brophy's The Snow Ball is ripe to seduce a new generation of readers. 'I read it in one sitting ... Wonderful!' Claire-Louise Bennett'One of the wittiest British writers of the past half century ...
A comet in her day.' Terry Castle
BIC: