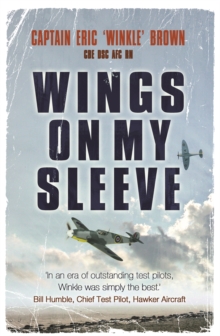 Wings on my sleeve (Rev. and updated ed)
0753822091 / 9780753822098
Reprint. This ed. originally published: London: Weidenfeld & Nicolson, 2006.
No other man alive today can claim to have interviewed the top Nazis, flown their jet aircraft or tested so many experimental machines Paperback published to coincide with the start of the summer air show season Eric Brown is in the Guinness Book of Records for having flown more aircraft types (487) than any other pilot in the world. His record is unlikely to be broken, ever. Eric Brown is the most decorated Fleet Air Arm pilot. His British decorations are: MBE, OBE, CBE, DSC, AFC, KCVSA At the age of 88 the author still lectures on his remarkable career
Eric Brown was on a University of Edinburgh exchange course in Germany in 1939, and the first he knew of the war was when the Gestapo came to arrest him.
They released him, not realizing he was a pilot in the RAF volunteer reserve: and the rest is history.
Eric Brown joined the Fleet Air Arm and went on to be the greatest test pilot in history, flying more different aircraft types than anyone else.
He is the only man alive who has flown every major (and most minor) combat aircraft of the Second World War as well as all the early jets.
Speaking perfect German, he went to Germany in 1945 to test the Nazi jets, interviewing (among others) Hermann Goering and Hanna Reitsch.
He flew the suicidally dangerous Me 163 rocket plane, and tested the first British jets.
He would have been the first man to break the sound barrier, except that the British government cancelled the programme and gave the technology to America.
His naval career continues to this day, as he advises on the new aircraft carrier design for the Royal Navy. A living legend among aviation enthusiasts, his amazing life story deserves to be told in full -- from crashing in front of Winston Churchill to unmasking a Neo-Nazi ring in the 1950s to his terrifying flights in primitive jets and rockets.
BIC:
BGT Biography: science, technology & medicine, TRP Aerospace & aviation technology