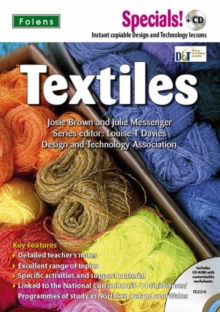 1850082316 / 9781850082316
Usually dispatched within 2 weeks
"Folens Specials!" Science titles provide ready-made resource lessons for teachers and students.
Each book contains ten topics with detailed teachers notes that are linked to the National Curriculum, Scheme of Work and 5-14 Guidelines.
Activity sheets have been designed specifically for use for students with lower reading abilities. "Textiles" covers: how fibres and fabrics are made; the properties of textiles; the range of textiles products - modelling, simple pattern making; colouring and embellishment techniques; joining and finishing processes; testing/safety and other factors; smart fabrics; and products of the future.
The CD-ROM contains the information from the book, but the resource sheets, activity sheets and assessment sheets are all customisable, meaning that the teacher can adapt individual sheets to suit the differing abilities of individuals or groups of students.
BIC:
4KHN For National Curriculum Key Stage 3, 4W Designed for differentiated learning, JNUM Teachers' classroom resources & material, YQTD Educational: Design & technology