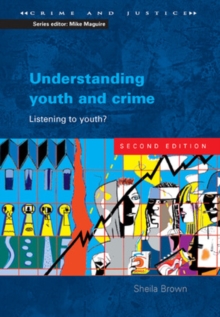 Understanding youth and crime : listening to youth? (2nd ed)
0335216781 / 9780335216789
Stock expected by 16/04/2020
"This is an excellent introductory textbook on youth and crime.
It is excellent not only in its analysis of criminological questions about youthful offending, but also because it positions the debate within a wider context of the relationship between young people and society." - "Young People Now". "The style is lively and readable, and the reader is pointed unobtrusively within the text towards the work of the leading authors in the field...a thorough and thoughtful introduction to the subject." - "Social Policy". "A critical and scholarly summary of the state of research and theorizing around 'youth and crime' ...This book provides a useful and challenging overview of the topic for undergraduate students." - "The Times Higher Education Supplement".
This book is an accessible introduction to the subject of youth and crime.
The author explores the social construction of childhood and youth, and looks at the role of the media in creating a strong association of young people with crime and disorder, which sustains processes of marginalization and exclusion and leads to frequent 'panics' about youth crime.The importance of media representations of race and gender in these processes are also explored.
The second edition is substantially revised and updated to take account of new political events and legislative developments, including: a new chapter on the phenomenon of 'cybercrime'; a critical examination of recent developments in youth justice policy; and, a new chapter on the impact of globalization on young people, which raises major issues around poverty, war and the commercial exploitation of children.
This is a key text for students in criminology, sociology, social policy, and cultural studies.
BIC: