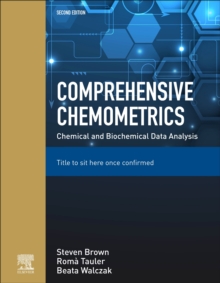 Comprehensive Chemometrics : Chemical and Biochemical Data Analysis (2 ed)
0444641653 / 9780444641656
Comprehensive Chemometrics, Second Edition features expanded and updated coverage, along with new content that covers advances in the field since the previous edition published in 2009.
Subject of note include updates in the fields of multidimensional and megavariate data analysis, omics data analysis, big chemical and biochemical data analysis, data fusion and sparse methods.
The book follows a similar structure to the previous edition, using the same section titles to frame articles.
Many chapters from the previous edition are updated, but there are also many new chapters on the latest developments.
BIC: