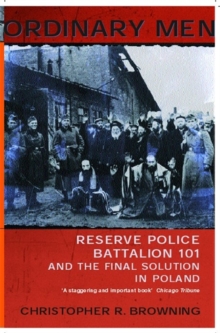 Ordinary men : Reserve Police Battalion 101 and the final solution in Poland
0141000422 / 9780141000428
20 cm xx, 271p., [10]p. of plates : ill.
Originally published: New York: HarperCollins, 1992.
This detailed and harrowing study of a single group of mostly middle-aged policemen from provincial Germany has achieved classic status among histories of the Holocaust.
Far from being demonic and hate-filled sadists, most of the group had no history of anti-semitism or of far right politics.
Browning explores the motivation of these men and the horribly familiar mechanisms of man-management and group solidarity that reduced a team of "ordinary men" into a bestial instrument of madness.
It is a book that offers no comfort to those who seek to explain the Holocaust in terms of German exceptionalism, but it is a significant contribution to the history of World War II.
BIC:
1DVP Poland, HBJD European history, HBTZ1 The Holocaust, HBWQ Second World War