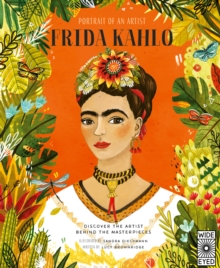 1786036444 / 9781786036445
27 cm 32 unnumbered pages : illustrations (colour)
A beautifully told art story for children, looking at Frida Kahlo's life through her masterpieces.
Accompanied by stunning original illustrations from the award winning Sandra Dieckmann. - absolutely stunning - perfect for budding artists - A wonderful resource for parents and teachers. - the perfect amount of girl power Frida Kahlo was a Mexican painter and today is one of the world's favourite artists.
As a child, she was badly affected by polio, and later suffered a terrible accident that left her disabled and in pain.
Shortly after this accident, Kahlo took up painting, and through her surreal, symbolic self portraits described the pain she suffered, as well as the treatment of women, and her sadness at not being able to have a child.
This book tells the story of Frida Kahlo's life through her own artworks, and shows how she came to create some of the most famous paintings in the world.
Learn about her difficult childhood, her love affair with fellow painter Diego Rivera, and the lasting impact her surreal work had on the history of art in this book that brings her life to work. 'A thoughtful and colourful biography of one of Mexico's most prolific artists.' - Kirkus
BIC:
YBCS Picture storybooks, YNA Art: general interest (Children's / Teenage)