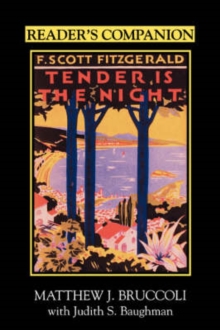 Reader's Companion to F.Scott Fitzgerald's ""Tender is the Night
1570032238 / 9781570032233
Stock expected by 18/04/2020
274 pages, 46 halftones, 10 line drawings
Professional & Vocational Learn More
Postgraduate, Research & Scholarly
Undergraduate
Tender is the Night, the novel F. Scott Fitzgerald worked longest and hardest on, has not achieved its proper recognition because the text is peppered with errors and chronological inconsistencies.
Moreover, the novel has a concentration of references to people, places and events that most readers no longer recognize.
In this guide to the novel, Matthew J. Bruccoli corrects those errors and explains the factual details.
He also offers maps, photos, correspondence and notes that demystify the writing of one of literature's most misunderstood - and underrated - masterpieces.
BIC:
1KBB USA, 2ABM American English, DSBH Literary studies: from c 1900 -, DSK Literary studies: fiction, novelists & prose writers