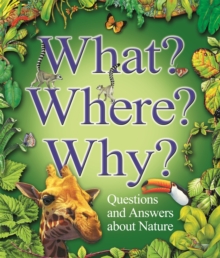 What? Where? Why?
0753412047 / 9780753412046
Edited by Catherine Brereton et al.
This exciting and fact-filled title comprises all the best bits from the popular Question Time series, giving lively, informative answers to many of the WHAT, HOW, WHY and WHICH questions that young children ask about the world around them.
What? Where? Why? Questions and Answers about Nature asks a variety of questions such as 'How do caterpillars grow up?', 'Why are whales such whoppers?', 'How does the frilled lizard trick its enemies?', 'Why do peacocks show off?', 'How can a shark drown?' and 'What is a rainforest?' plus hundreds more.
Containing information taken from the Question Time titles Creepy-Crawlies, Mammals, Reptiles, Birds, Sharks, Seashore and Rainforest, with brand-new pages on fish, this bumper volume is sure to delight the inquisitive reader.
Carefully researched and created to fulfil early-learning needs, the book covers a wealth of popular natural history subjects that will stimulate children's curiosity.
The topics are explored in great detail with engaging text, and supported by colourful and inviting illustrations that bring the natural world vividly to life. Further information is supplied alongside photographs, amazing facts appear with eye-catching cartoons and a Now I Know feature reinforces the facts that have been explained.
This focused approach will provide a solid basis of knowledge, as well as inspire and educate.
BIC:
4KHF For National Curriculum Key Stage 1, 5AF Interest age: from c 5 years, YNN Natural history (Children's/Teenage)