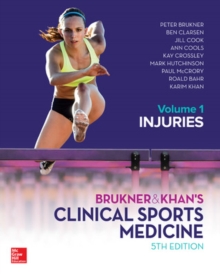 Brukner & Khan's clinical sports medicineVolume 1,: Injuries (5th edition)
1760421669 / 9781760421663
26 cm xxxix, 1064 pages : illustrations (black and white, and colour)
Professional & Vocational Learn More
Tertiary Education (US: College)
Previous edition: New York: McGraw-Hill Medical, 2012.
CLINICAL SPORTS MEDICINE5TH EDITIONVolume 1 INJURIES"A striking feature of Clinical Sports Medicine has always been the authors' relentless commitment to 'clinical'.
This is a unique book."Dr Emma K Stokes, President, World Confederation for Physical Therapy EDITORSPETER BRUKNERBEN CLARSENJILL COOKANN COOLSKAY CROSSLEYMARK HUTCHINSONPAUL McCRORYROALD BAHRKARIM KHAN Brukner & Khan's Clinical Sports Medicine, the world-leading title in sport and exercise medicine, is an authoritative and practical guide to physiotherapy and musculoskeletal medicine for clinicians and students. To accommodate the rapid advances in the professions, this fifth edition has been expanded into two volumes.
This first volume, Clinical Sports Medicine: Injuries, is the essential guide to all aspects of preventing, diagnosing and treating sports-related injuries.
It serves physiotherapists, team clinicians, athletic trainers, sports therapists, sports rehabilitators and trainers, as well as students in the health professions and in Human Movement Studies. All chapters have been updated and rewritten by an international team of sports physiotherapists and sports physicians at the top of their fields.
More than 550 new figures have been added to bring the total number of illustrations to 1300.
There are 15 new chapters, including: * Shoulder pain * Acute knee injuries* Posterior thigh pain * Low back pain* Return to play * Sport-specific biomechanics The second volume, Clinical Sports Medicine: Exercise Medicine, is scheduled for release in 2018 and will focus on the health benefits of exercise and the medical issues in sport.
It will serve general practitioners and other clinicians who prescribe exercise to promote health and to treat medical conditions such as heart disease and diabetes. ABOUT THE AUTHORS PETER BRUKNEROAM, MBBS, FACSEP, FACSM, FFSEMPeter Brukner is a Sport and Exercise Physician and currently the Australian cricket team doctor.
He was previously Head of Sports Medicine and Sports Science at the Liverpool Football Club in the UK.
Peter is the founding partner of the Olympic Park Sports Medicine Centre, a past president of the Australasian College of Sport and Exercise Physicians, and Professor of Sports Medicine at La Trobe University.
Peter has been an Olympic team physician and was the Socceroos team doctor at the 2010 World Cup.
In 2005 he was awarded the Order of Australia medal (OAM) for services to sports medicine. KARIM KHANMD, PhD, MBA, FACSEP, FACSM, FFSEMKarim Khan is a Sport and Exercise Physician and Professor of Sports Medicine at the Department of Family Practice at the University of British Columbia, Vancouver, Canada.
He is Editor in Chief of the British Journal of Sports Medicine (BJSM) and has published more than 300 peer-reviewed research articles.
In 2001, he was awarded the Australian Prime Minister's Medal for service to sports medicine.
Karim was profiled in The Lancet in its 2012 Olympic Games issue.
BIC: