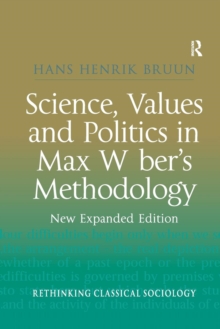 Science, Values and Politics in Max Weber's Methodology : New Expanded Edition
1138266876 / 9781138266872
Usually dispatched within 4 weeks
156 x 234 mm, 590 grams 320 pages
First published in 1972, this book on Weber's methodological writings is today regarded as a modern classic in its field.
In this new expanded edition, the author has revised and updated the original text, and translated the numerous German quotations into English.
He has also added a new introduction, where he discusses major issues raised in the relevant secondary literature since 1972. The author traces the relationship between values and science in Max Weber's methodology of its central aspects: value freedom, value relation (Wertbeziehung), value analysis, the ideal type and the special problems which pertain to the sphere of politics.
Weber's thought is presented and discussed on the basis of a meticulous analysis of all available, published or unpublished, original material. The book is indispensable for all serious Weber scholars and provides the general student with a clear, accessible and authoritative exposition of major aspects of Weber's methodology.
BIC:
JFF Social issues & processes, JHBA Social theory, JPA Political science & theory