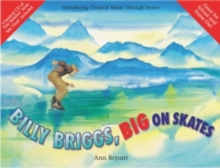 Billy Briggs, big on skates : a story to introduce 'The Moldau' by Smetana
1843285428 / 9781843285427
Usually dispatched within 2 weeks
21 x 28 cm 32 unnumbered pages : illustrations (colour)
The Classical Music Storybooks are designed for Key Stage 2 and introduce pupils to important musical works through imaginative adventure stories.
Teachers can either read the story whilst playing the CD to help evoke the soundscape of the music, alternatively, once pupils are familiar with the story they can simply listen and look at the pictures.
These books are ideal for use as part of an integrated scheme of work for art, music and literacy and are a very approachable resource for non-specialists. In Billy Briggs, Big On Skates, Billy skates along the frozen Moldau river - a ribbon of ice.
He can hear the water crawling below, it seems to whisper 'set me free'.
Join Billy as he sets off on a mission that introduces him to creatures of the night, ghostly figures and requires him to muster all of his inner strength to overcome the obstacles in his path.
Based on 'The Moldau' from Bedrich Smetana's Ma Vlast. Also available in the Classical Music Storybooks series: The Crazy Alien Ball The Incredible Spinning Wheel Jupiter Cove Wasp Alert In Minibug Bonanzaland William The Crack Shot Kid
BIC:
AVQ Musical scores, lyrics & libretti, AVS Techniques of music / music tutorials