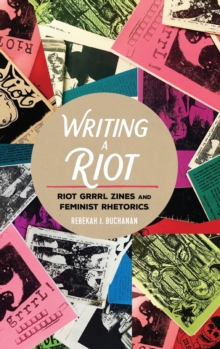 Writing a Riot : Riot Grrrl Zines and Feminist Rhetorics (New ed)
1433150778 / 9781433150777
150 x 225 mm, 390 grams 182 pages, 3 Illustrations, unspecified
Riot grrrls, punk feminists best known for their girl power activism and message, used punk ideologies and the literacy practice of zine-ing to create radical feminist sites of resistance.
In what ways did zines document feminism and activism of the 1990s?
How did riot grrrls use punk ideologies to participate in DIY sites?
In Writing a Riot: Riot Grrl Zines and Feminist Rhetorics, Buchanan argues that zines are a form of literacy participation used to document personal, social, and political values within punk.
She examines zine studies as an academic field, how riot grrrls used zines to promote punk feminism, and the ways riot grrrl zines dealt with social justice issues of rape and race.
Writing a Riot is the first full-length book that examines riot grrrl zines and their role in documenting feminist history.
BIC:
AVH Individual composers & musicians, specific bands & groups, GTC Communication studies, JFCA Popular culture, JFCD Material culture, JFCK Fashion & society, JFFK Feminism & feminist theory, JFSG Urban communities, JFSK Gay & Lesbian studies, JFSP2 Age groups: adolescents, JFSP3 Age groups: adults