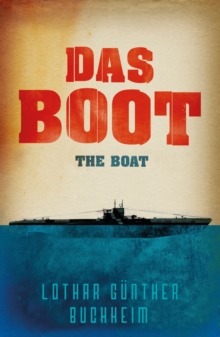 Das Boot : one of the best novels ever written about war
0304352314 / 9780304352319
Part of the Cassell Military Paperback 'Read a Great Movie' promotion Equally famous both as a film and a major TV series Lead title in the new military history paperback collection. Published to commemorate the 60th Anniversary of the outbreak of World War II
It is autumn 1941 and a German U-boat commander and his crew set out on yet another hazardous patrol in the Battle of the Atlantic.
Over the coming weeks they must brave the stormy waters of the Atlantic in their mission to seek out and destroy British supply ships.
But the tide is beginning to turn against the Germans in the war for the North Atlantic - their targets now travel in convoys, fiercely guarded by Royal Navy destroyers, and when contact is finally made the hunters rapidly become the hunted.
As the U-boat is forced to hide beneath the surface of the sea a cat-an-mouse game begins, where the increasing claustrophobia of the submarine becomes an enemy just as frightening as the depth charges that explode around it.
Written by a survivor of the U-boat fleet - of the 40,000 men who served on German submarines, 30,000 never returned - DAS BOOT is a psychological drama merciless in its intensity, and a classic novel of World War II.
BIC: