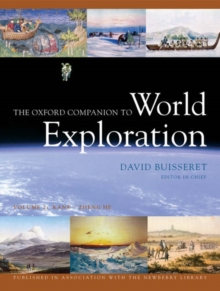 The Oxford Companion to World Exploration
019514922X / 9780195149227
Usually dispatched within 2 weeks
229 x 293 mm, 2991 grams 1072 pages, 150 halftones throughout; 50 color photos in inserts
General (US: Trade) Learn More
Professional & Vocational
This illustrated reference work covers all aspects of world exploration from Antarctica to the North Pole; from the discovery of the New World to the age of space exploration. The companion features 750 articles, carefully selected by a distinguished group of editors and advisers to examine exploration from different angles: thematically, geographically, historically, and biographically.
The Oxford Companion to World Exploration is available in a twovolume print version and as an e-reference text from Oxford's Digital Reference Shelf. Topics include:* Biographies of influential explorers such as Ferdinand Magellan, Cheng Ho, Hernan Cortes, Ibn Battuta, Vitus Bering, and Christopher Columbus* Navigational and marine sciences, navigational techniques, ancient and medieval navigation, ocean currents and winds, longitude and aerial surveys* Exploration in ancient cultures including Egypt, Persia, Greece, Byzantium, China, Polynesia, and Rome. Each entry is signed by a leading scholar in the field and contains a further reading bibliography and is cross-referenced to other useful articles.
BIC:
HBG General & world history, RGR Geographical discovery & exploration
* Variable discounts between 0% and 15% are applied to items where BBfS cannot determine exact discounts from suppliers.