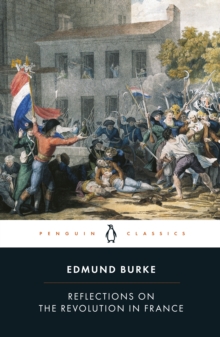 Reflections on the Revolution in France : and on the proceedings in certain societies in London relative to that event (Updated ed)
0140432043 / 9780140432046
Previous ed.: Oxford: Oxford University Press, 1999.
This work is far more than an eloquent piece of occasional writing.
For Burke is one of the foremost conservative British political thinkers: in his support for piecemeal reform rather than revolutionary change, in his sceptical belief in expediency and practical wisdom rather than abstract theorizing, and in his defence of property, religion and traditional institutions.On all these topics Burke gave a definitive expression to a set of attitudes still at the heart of contemporary controversies, and yet he was no mere unthinking reactionary.
Rather, as Conor Cruise O'Brien shows in his introduction, he was an Irishman with a good deal of smypathy for the "revolutionary" Catholic cause - a latent sympathy which, paradoxically, may explain some of the power of this work.
BIC:
3JF c 1700 to c 1800, DNF Literary essays, HBJD European history, HBLL Modern history to 20th century: c 1700 to c 1900, HBTV Revolutions, uprisings, rebellions, JPWQ Revolutionary groups & movements