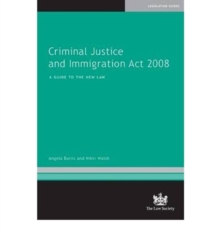 Criminal Justice and Immigration Act 2008 : a guide to the new law
1853286893 / 9781853286896
"The Criminal Justice and Immigration Act 2008" introduces important new provisions that affect current practice.
This thorough yet concise guide provides an analysis of the provisions with clear explanations of how the law will work in practice, making reference to appropriate cases, and new and existing legislative provisions as necessary.
The Act builds on the already considerable reforms made over the past ten years to the Criminal Justice System.It includes measures to: allow Courts to make dangerous offenders serve a higher proportion of their tariff before being eligible for parole; change the rules relating to bail and allocation of offences; extend powers relating to anti-social behaviour orders; 'create new offences of: possession of extreme pornography, causing a nuisance or disturbance on NHS premises, and incitement to hatred on grounds of sexual orientation; introduce Violent Offender Orders, allowing courts to impose post-sentence restrictions on those convicted of violent offenses; introduce Youth Rehabilitation Orders and Youth Conditional Cautions; and enable a new special immigration status for terrorists and serious criminals who cannot be currently removed from the UK.
BIC: