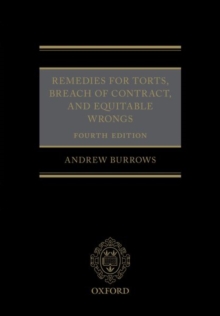 Remedies for torts, breach of contract, and equitable wrongs (Fourth edition)
0198705948 / 9780198705949
Previous edition: published as Remedies for torts and breach of contract. 2004.
The fourth edition of Andrew Burrows' seminal work Remedies for Torts, Breach of Contract, and Equitable Wrongs (previously Remedies for Torts and Breach of Contract), updates and extends coverage of judicial remedies for civil wrongs in English law.
Since the release of the previous edition in 2004, the scope of discussion in the book has developed to include many contemporary case studies.
Examples of these include Morris-Garner v One StepLtd on negotiating damages, Milner v Carnival on quantum of mental distress damages, Forsyth Grant v Allen on restitution for torts, to name but a few, as well as crucial Supreme Court decisions on penalty clauses (Cavendish v Makdessi) and injunctions (LauritzenCool, Araci v Fallon and Coventry v Lawrence). In addition to comprehensive updating to take account of new developments in the law, this book includes two new chapters.
Unique to the fourth edition, the first explores damages under the Human Rights Act of 1998; the second examines negotiating damages.
Remedies for Torts, Breach of Contract, and Equitable Wrongs by leading scholar Andrew Burrows is a popular work amongst students and practitioners due to its broad coverage, factual detail, insightful application of academic contextand enduring subject matter.
BIC:
1DBKE England, 1DBKW Wales, LNCJ Contract law, LNV Torts / Delicts