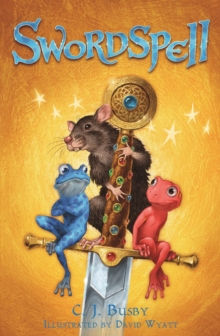 Swordspell
Part of the Frogspell series
1848779399 / 9781848779396
Stock expected by 23/04/2021
20 cm 169 pages : illustrations (black and white)
Max and Olivia have discovered that Morgana Le Fay is plotting to use a mysterious 'swordspell' against King Arthur.
They don't know what the spell is or how to stop it, and Olivia also has her training for the Squire's Challenge to worry about.
But things are made even worse when Merlin is called away unexpectedly, leaving Max and Olivia without his magical protection.
With the help of Sir Lancelot, Sir Bertram, Adolphus the dragon, Ferocious the rat and Vortigern the duck, the Pendragon children must quickly uncover Morgana's evil plan before it is too late for Arthur and Camelot. Join Max and Olivia for more magical fun in their fourth hilarious adventure!
BIC: