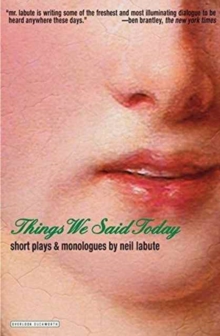 0715649345 / 9780715649343
Usually dispatched within 2 weeks
21 cm 167 pages : illustrations (black and white)
Things We SaidTodayfeatures the scripts for Neil LaBute sgroundbreaking Directv project 10x10 a seriesof short films written and directed by LaButebased on ten compelling original monologues, five each for men and women.
Also included are five short plays displaying thepower and scope of Neil LaBute s creative vision.InPick One, three white guys come up with away to solve America s problems; in The Possibleone young woman seduces another s boyfriendfor an unexpected reason.
Call Backfeaturesan actress and actor who spar about a pastencounter that she, unnervingly, remembersmuch better than he does.
Good Luck (In Farsi), a pleasingly astringent study in competitivenessand vanity (The New York Times) has twoactresses pulling out all the stops in a preauditionpsych out; and in Squeeze Playa fatherand his son s baseball coach strike a mutually beneficial deal.
Rounding out the collectionare two monologues commissioned as part ofCenterstage s My America project. "
BIC: