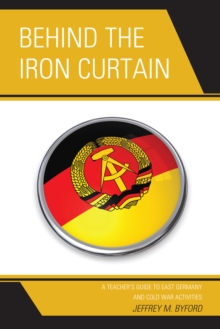 Behind the Iron Curtain : A Teacher's Guide to East Germany and Cold War Activities
0761859322 / 9780761859321
Stock expected by 14/12/2019
151 x 227 mm, 195 grams 124 pages
Behind the Iron Curtain: A Teacher's Guide to East Germany and Cold War Activities discusses teaching Cold War activities through an East German perspective.
The book is comprised of eight chapters that examine various pedagogical approaches and historical background associated with East Germany's role throughout the Cold War.
Topics in this book include multiple methods of differentiated instruction, the beginnings of East Germany, the creation of the Ministry for State Security, the Berlin Wall, youth and education, a planned economy, life and society of East Germans, and the events that led to the fall of communism.
The heart of this book includes eighteen lessons associated with life behind the Iron Curtain.
BIC:
1DFGE East Germany, DDR, 3JJP c 1945 to c 2000 (Post-war period), HBJD European history, HBLW 20th century history: c 1900 to c 2000, HBTW The Cold War